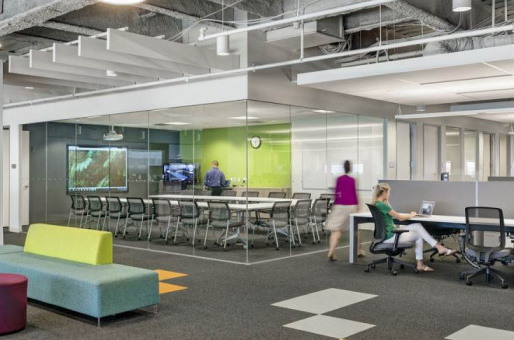 We all know that most of the tenants leave the leasing space full of mess and furniture if any is almost broken. The walls' paint isn't what it used to be, and the ceiling is full of spiderwebs. It doesn't seem like tenant's care at all, right? It's stressful enough to think about the refurbishment, let alone having to clean up the space by yourself can't be done easily. Although, hiring a commercial cleaning service can be much of a help. Hiring a pro to do the job instead of you, not only time will you get to save, but you're saving yourself from hell-is exhaustion from fixing it all. Here are the pros and no cons of hiring a
commercial cleaning service
to do the work:
1.) Increased Employee Productivity
Your employees are much indeed happier when the commercial space looks clean, fresh, and free from accumulated dust and dirt. The air is clean and is certainly healthier to breathe. While numerous businesses perceive the need for ongoing employee training and recognize that a healthy company culture is vital, only few thoughts may be paid to the most important factor in productivity – which is pure, clean air.
While it is well-established that polluted air is dangerous to human health, a lot of business owners may not realize the significant impact of unhealthy indoor air. Help your employees breathe cleaner air if you want a team that is eager, bright, and productive. A regularly deep and professional cleaning leaves your office air clean and fresh.
2.) A Positive, Professional Appearance
Here are two contrary ideas: walking into a commercial space that has dusty desks, stained carpet, and an overflowing trash with crumpled paper and takeout boxes, or walking into a business that smells fresh, looks pristine, and is plainly clean. The image you project to customers is a vital factor in the success of your operation. A rubbish appearance creates an impression that your business performs poor-quality work. A smart, fresh, and sanitary appearance creates a subtle impact on clients, customers, and visitors to your enterprise – and greater confidence in your business goods or services.
A brilliant business "housekeeping" includes a few critical procedures. Many of them are reducing clutter accumulating in halls, stairways, and other areas, keeping trash bins clean, rather than just replacing bags, along with effective dust and dirt removal performed daily.
3.) Long Term Cost Savings
A lot of less competent office cleaning services or companies perform only the most basic cleaning process. Dust just lingers on top of shelves, on blinds, cabinets, and in harder-to-reach areas. Furniture covered with fabric emits dust and odors. Maintaining your office should include keeping shelves, floors, furniture, desks, and other areas free from dirt, dust, and contaminants. A high-quality cleaning helps avoid carpets that become damaged and heavily stained with deeply ingrained dust or dirt that can only be resolved by placing new carpet at high expense.
4.) Higher Quality Cleaning
When engaging the labor of a commercial cleaning service, look for what professional cleaning processes are used. Not all commercial cleaning services are the same in the level of work they perform. Some can do added services such as deep rug and upholstery cleaning for cleaner air, improved maintenance, and a good spotless look. Windows should be well cleaned, no smudge or dust. The range of services covers every need, from regular deep cleaning to remediation and restoration.
Carpet and area rug cleaning
Drapery and blind cleaning
Tile and grout cleaning and restoration
Air duct cleaning
Upholstery cleaning
Concrete floor care, repair, and restoration
Wall cleaning
When an unanticipated disaster has resulted in fire or water damage, we have the expertise to get your business back up to speed.