Written by

Anne Wild & Associates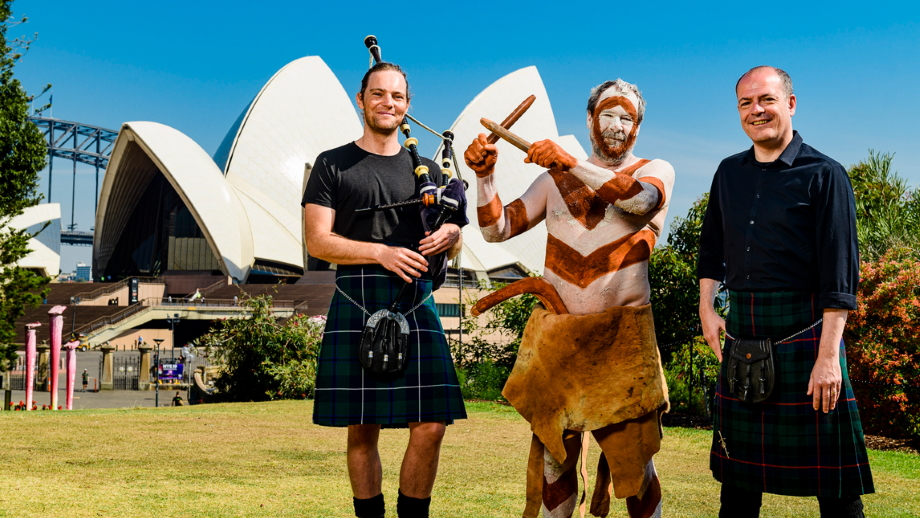 The Year of Scotland in Australia (YOSA) is just getting started. In the next couple of months, Scottish artists from contemporary folk and trad scenes will take centre stage at leading festivals across the country in Canberra and Adelaide - but also at the heart of smaller communities across Australia with The Festival of Small Halls - an appropriate nod to the origins of Scottish traditional music.
While the National Folk Festival in Canberra (April 9th - 13th) will showcase some of Scotland's most celebrated musicians - including Elephant Sessions and The Jellyman's Daughter - the YOSA program of festivities for March and April 2020 is packed with unique opportunities to discover a broad variety of Scottish traditional music.
WOMADelaide starts this weekend (March 6th - 9th) and will feature multi-award winning Scottish act RURA, while the intimate and relaxed atmosphere of Blue Mountain Festival in Katoomba (March 13th -15th) is the perfect set up to enjoy the soulful music of quartet Fara and the high-energy, extravagant fusion act The Langan Band.
In the year-long, rich and varied program of YOSA, there is one festival that resonates a little bit more with the very essence of Scottish traditional music: The Festival of Small Halls (March 6th - April 14th - VIC, SA, NSW, ACT), Australia's largest regionally dedicated music tour. Small Halls brings live contemporary folk music to communities that are sometimes too small or too remote to host artists from abroad.
In Scotland, folk music is the heart and soul of smaller communities and plays a vital role in celebrating Scottish culture, particularly throughout the islands. Scotland's islands and remote communities have always lived in tune with music. Children are taught to play traditional instruments from a very young age and sing old Gaelic songs at school. Whole communities gather around a folk band and a drink at the weekend. Resident skilled pipers, fiddle and accordion players have become world renowned - some of them are touring Australia right now.
It is easy to experience the richness of Scotland's musical heritage everywhere in the country. Pop down to any local pub, like Crofters on the isle of Arran, and enjoy weekly folk sessions with local artists. Make your way to any community centre - in Kirkwall for example, on the mystical Orkney archipelago, where local pipers and fiddlers will help you brush up your ceilidh dancing skills and it's a great way to meet the locals.
There's always a trad music festival nearby in Scotland, whatever the season, wherever you are. In July for example, you can either dance the night away at Hebridean Celtic Festival on the Isle of Lewis, or catch some waves and tunes on the Isle of Tiree (one of Scotland's top surfing destinations) at Tiree Music Festival. Great music in fantastic surroundings, off the beaten track - every folk festival in Scotland is a unique experience.
In 2020, acclaimed Scottish group The Paul McKenna Band will take on the Small Halls' adventure, starting with high-profile Port Fairy Folk Festival (March 6th - 9th). They will then hit the road to perform in 21 smaller halls across four states and territories. There is no doubt that, for the Paul McKenna Band, this festival will have a scent reminiscent of home.
There are six different tours of Small Halls during YOSA: Scottish artist Siobhan Miller toured the Small Halls in December-January, and in April and May, folk singer Iona Fyfe will follow. Start there and if you like what you hear, put Scotland at the top of your list for your next big holiday!
For more information about festivals and traditional music in Scotland, go to: www.visitscotland.com/see-do/events/music-festivals/traditional-folk/
To keep up to date with the fast expanding year long programme, more detailed information and ticket links, visit  www.yearofscotlandaustralia2020.com and follow @YOSA2020 #YOSA2020.
Dates and locations of some of the festivals which are part of the Year of Scotland in Australia for March and April:
March 6 - April 14
Festival of Small Halls (Woodfordia), VIC, SA, NSW, ACT - festivalofsmallhalls.com
Scottish Artists:
Mar 6-9 - Port Fairy, VIC - Port Fairy Folk Festival
Mar 11 - Pomonal, VIC - Pomonal Community Hall
Mar 12 - Mount Benson, Sa - Mt Benson Hall
Mar 13 - Lameroo, SA - Lameroo Memorial Hall
Mar 14 - Orroroo, SA - Orroroo Memorial Hall
Mar 15 - Beltana, SA - Beltane Assembly Hall
Mar 18 - Red Cliffs, VIC - Red Cliffs Civic Centre
Mar 19 - Wycheproof, VIC - Wycheproof Shire Hall
Mar 20 - Caldwell, VIC - Caldwell Hall
Mar 21 - Sedgwick, VIC - Sedgwick Public Hall and Recreation Reserve
Mar 22 - Glenlyon, VIC - Glenlyon Hall
Mar 25 - Loch, VIC - Loch Public Hall
Mar 26 - Merton, VIC - Merton Memorial Hall
Mar 27 - Hallston, VIC - Hallston Mechanics Institute Hall
Mar 28 - Tarwin Lower, VIC - Tarwin Lower Mechanics Institute
Mar 29 - Port Albert, VIC - Port Albert Mechanics Institute
Apr 1 - Heyfield, VIC - Heyfield Memorial Hall
Apr 2 - Stanley, VIC - Stanley Soldiers memorial Hall
Apr 3 - Dalgety, NSW - Dalgety Memorial Hall
Apr 4 - Ganmain, NSW - Ganmain Hall
Apr 5 - Brungle, NSW - Brungle Memorial Hall
Apr 8 - Barnawartha, VIC - Barnawartha Soldiers Memorial Hall
Apr 9-13 - Canberra, ACT - National Folk Festival  
March 6-9
Port Fairy Folk Festival, VIC - www.portfairyfolkfestival.com
Scottish Artists:
Fara

The Jellyman's Daughter

Paul McKenna Band

The Langan Band

Tony McManus
March 6-9
WOMADelaide, SA - www.womadelaide.com.au
Scottish Artists:
March 13-15
Blue Mountains Music Festival, NSW - www.bmff.org.au
Scottish Artists:
Fara

The Jellyman's Daughter

The Langan Band
The Year of Scotland in Australia 2020 is the largest showcase of traditional Scottish music and heritage in Australia, ever.  Produced and curated by Showcase Scotland Expo and Woodfordia Inc in partnership with Australia's festivals and event organisers, The Year of Scotland in Australia 2020 is backed by Creative Scotland, VisitScotland, The Scottish Government and The Glenturret whisky.


For further information on the Year of Scotland in Australia, please go to https://yearofscotlandaustralia2020.com/

Presenting Partner
Festivals
Albany Arts Festival, Bello Winter Music Festival, Blue Mountains Music Festival, Cobargo Folk Festival, Cygnet Folk Festival, Darwin Festival, Dorrigo Folk and Bluegrass Festival, Fairbridge Folk Festival, Festival of Small Halls Australia, Folk by the Sea, FourWinds Festival, Groundwater, Horizon Festival, Majors Creek Festival, Maldon Folk Festival, Maleny Music Festival, Mullum Music Festival, Nannup Music Festival, National Celtic Festival, National Folk Festival, Newstead Folk Festival, Palm Creek Folk Festival, Peak Festival, Port Fairy Folk Festival, Queenscliff Music Festival, St Albans Folk Festival, The Planting Festival, WOMADelaide, Woodford Folk Festival.
The Australian Scottish diaspora, over two million of whom claim Scottish ancestry, are also running events, many of which are regular meetings and celebrations. Over 36 community groups are running multiple events and over 200 are presenting Scottish themed concerts.