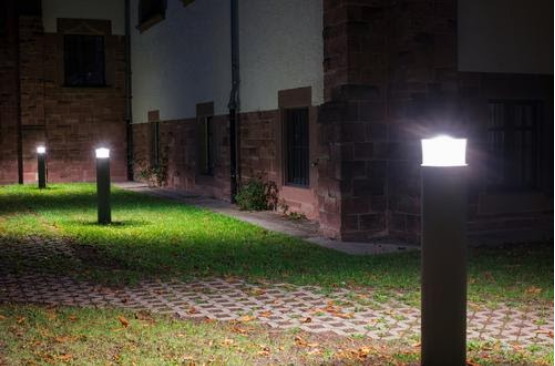 Commercial solar bollards are something you've likely seen popping up everywhere in recent years. Loads of commercial premises are having them installed, and if you're thinking of installing some bollards on your commercial space, there are some things to consider first before going ahead with it. That's what we'll cover in this guide.
What Is a Solar Bollard?
Bollards have long been used as a means of sectioning off certain areas of a property and are very common around places like shopping centres and in areas of parkland. You'll regularly see them bordering areas of water, such as a lake.
Solar bollards come with solar lights built into them, so rather than merely being a device to act as a sort of barrier, they perform the dual purpose of providing ambient lighting as well when the sun goes down. Rather than being connected to a mains power supply, instead the sun charges up a small battery during the day so the light can be powered all through the night.
Why Choose Bollards With Solar Powered Lights?
Rather than simply installing standard bollards, the lights offer a level of security when darkness falls. This security might be in the form of ensuring your commercial premises is not plunged into darkness after sundown, or it could be lighting to guide the way for anyone on your premises after dark.
Solar powered bollards are the perfect solution to providing light at intermittent locations along pathways, driveways or in areas of land that would otherwise be too dark.
One of the main reasons to choose bollard lighting that is solar is the simplicity of installation of the bollards, the money it will save on installation, and the ongoing savings for your electricity bills.
Choose Commercial Grade Solar Bollards
There are solar bollards designed for commercial use and others made for residential use. While both types are generally fine to use, those bollards constructed for use commercially will usually be better made, more robust and be equipped with higher-quality solar lighting that lasts longer during the night. Generally, you'll pay a little more for commercial quality, but it will be money well spent.
You want your bollards to last and to be equipped with lighting that's going to adequately serve the purpose you need them for.
Choose Bollards With Top Quality Batteries
Many solar bollards designed for residential use will have inferior batteries to store the sun's power, and this is what lets them down. You'll want to choose commercial bollards that are equipped with high-quality batteries that can power the lights all through the night until the sun comes up over the horizon the next morning.
Search for bollard lighting that comes with high-capacity battery storage, as well as batteries that have a relatively fast recharge time. Although it's convenient and cost-effective to have solar lights rather than bollard lighting that's hard wired, you need lights that are going to reliably do the job night after night.
For Australian conditions, where temperatures during the day can be harsh and weather can be wild at times, you'll want bollard solar lighting that has a high temperature tolerance. If you are located in a colder region of the country, you may want to consider lights with a lower temperature tolerance.
You Want Lights That Are Bright Enough
Another downfall of many residential solar lights is they are just plain too dim to really be effective as lighting. They're more of a decoration than a serious light source.
Commercial bollard lighting does not guarantee you'll get much brighter light, so you'll have to shop around and ask some questions about the lights you're interested in. Better still, would be an example of the lights in action so you can determine if they are indeed bright enough. With some lights, you may find they are too bright for your needs, so it's important to take the time to find just the right level of brightness for your requirements.
White Lights Or Coloured?
White lighting is by far and away the most common choice for solar bollard lights, as the main purpose is for illumination. However, coloured lighting is available and there may be occasions when you want solar bollards with coloured lights for effect. An example would be using the light from a solar bollard to light up a tree, monument or some other specific item. In this instance, the item and the lights are used as a feature rather than merely being a source of illumination only.
In Conclusion
Bollards with solar lighting have many benefits and are worth installing on your commercial property. Just think about what you need first, then take your time selecting the right commercial solar bollard lights for your specific requirements.