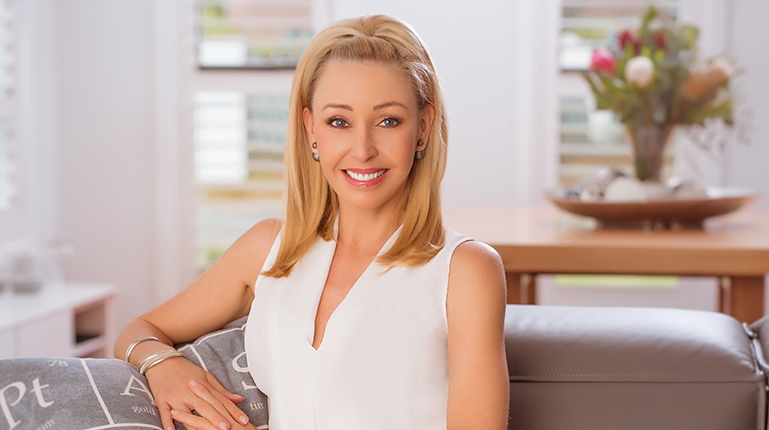 In challenging times, it takes leadership, originality and agility to see a nation through - and that is exactly what motivated Terri Vinson. A highly sought-after speaker, cosmetic chemist and immunology graduate, Ms Vinson - owner of successful Australian cosmeceuticals business Synergie Skin - sought to innovate and support Australia by swiftly switching up her business' focus to the creation of a hospital grade hand and surface sanitiser spray. 
Having commenced the investigation and formulation of this product to support colleagues in Hong Kong, Ms. Vinson identified an urgent need to turn her support to her homeland when the COVID-19 crisis began severely impacting Australia. 
Hearing of RBWH Foundation's research, led by Consultant Professor David Paterson to discover a viable treatment for Covid-19, Terri wanted to assist with efforts to raise funds, ensuring the research program could reach the quantity of participants targeted by the Foundation, to be effective. 
She said, "Being an immunology graduate, I am dedicated to supporting Australian scientific research in disease control. COVID-19 pandemic presents scientists with possibly the greatest challenge of our time. I am committed to pledging 5% of all Synergie Skin Sanitiser Spray sales to the RBWH Foundation's Coronavirus Action Fund this important research. 
RBWH Foundation CEO Simone Garske said it was commendable to see Australian companies joining the race against COVID-19. 
"Australia has been protected from the worst-case scenario seen internationally, but research remains a truly global responsibility," said Ms Garske. 
"Donations to the RBWH Foundation's Coronavirus Action Fund, such as this from Synergie Skin, will ensure our researchers can fast track vital healthcare projects. 
"These may include repurposing an old tuberculosis vaccine to boost the immunity of frontline health workers, Telehealth consultations to reduce anxiety in residential aged care facilities, and defence against superbugs which have followed serious COVID-19 infections overseas." 
Synergie Skin's sanitiser with grain-derived alcohol, provides a safer and cleaner alternative to other sanitisers. At a 70% concentration it is clinically proven to provide both antibacterial and antimicrobial protection. The botanical alcohol is antibacterial when used on skin and surfaces and 5% of all sales will support the clinical trials, of which Professor David Paterson is a key researcher. 
More about Synergie Skin Sanitiser

Points of effective sanitiser: 
To be effective against COVID-19, sanitisers must be at least 60% alcohol. 

For optimum protection, 70% alcohol hospital grade sanitisers should be used to provide the best barrier from disease. 

Sanitisers with a 70% alcohol content interfere with the coating of the virus, preventing its ability to attack and penetrate living cells and infect the body. 

Many sanitisers on the market use questionable ingredients which can be toxic if accidentally consumed into the blood stream, so do be careful to read the ingredients on labels. 

Bacteria and viruses can survive on non-organic surfaces. 

Synergie Skin Sanitiser spray is best used after touching surfaces such as door handles, fuel pumps, escalators, shopping trolleys or handling cash. 
•
This sanitiser also contains glycerine, which is important to keep the skin hydrated by attracting and binding moisture into the skin, along with Aloe Vera leaf juice (aloe barbadensis) is an ingredient within the spray to naturally soothe and offer powerful anti-inflammatory benefits.