No matter what dental issue you have, not all treatment options are good for everyone. Similarly, if we talk about dental veneers, they are an ideal cosmetic solution for some people, while for some they are not the best option. Porcelain veneers are extremely thin, custom-made shells that are attached over the front surface of teeth.
The main goal of affordable porcelain veneers is to improve the shape, size, length, and colour of the teeth. Many patients prefer porcelain veneers with the aim to reinvent their smiles. These veneers do not only work great in covering up your imperfections, but you give the smile you always dreamed of.
Let's move further and know some things before deciding on porcelain veneers as the best option for your dental problem.
These veneers are not removable
Dental veneers are bonded in their place and can only be removed by the dentist. Porcelain veneers can last for 15 years or more depending on how you take care of your veneers. 
You can get whiter teeth
When it comes to choosing the shade of porcelain veneers, many people think that going with whiter is the best decision, but it is not always the case. You need to choose the shade of white that goes perfectly with your natural teeth. Therefore, for most people, soft natural white is the best choice to look all-natural.
Veneers can chip and crack
As porcelain veneers are just like your natural teeth, so they can be chipped and cracked in the same manner. So, when you wear them, you need to be careful. Though they are highly durable, still some considerations are to be taken into account. It is always recommended to avoid biting hard objects when you wear veneers as they can crack your veneers. If you are dealing with teeth grinding issue, you need to check this issue with the dentist.
You don't need to go for the entire mouth
If you have a dental issue on one tooth, a veneer is needed for that tooth only. Some people prefer veneers on all their teeth, but it is not required in all cases. You can go for veneers on one or two teeth.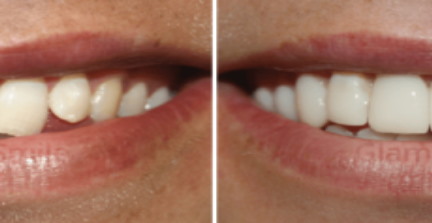 Veneers can correct several dental issues
Affordable porcelain veneers do not just help in improving the colour of your teeth, they can also be used to correct various cosmetic issues such as discoloured, chipped, gapped, misaligned, and worn down teeth.
Temporary veneers are also available
If you have no time to wait for permanent veneers, you can choose temporary porcelain veneers. These veneers allow patients to enjoy their benefits for 1-2 weeks.
Porcelain is stain-resistant
Many people choose affordable porcelain veneers over composite veneers because of the stain-resistance ability. Though porcelain is good at resisting stains, good oral hygiene is still required to increase the life of your veneers.
These veneers are not good for all people
It is a fact that porcelain veneers are quite popular among people who want to improve the appearance of their smile using affordable cosmetic procedure. But, it does not mean that everyone is a good candidate for affordable porcelain veneers. The dentist examines your dental condition before approving you for veneers. If you have an oral infection or tooth decay, you may not qualify for getting veneers.
Final Words
Now, when you know various things about affordable porcelain veneers, you can easily determine if this cosmetic treatment is the right choice for you. You must discuss your dental concerns and needs with the dentist for the right guidance.