Written by

NewsServices.com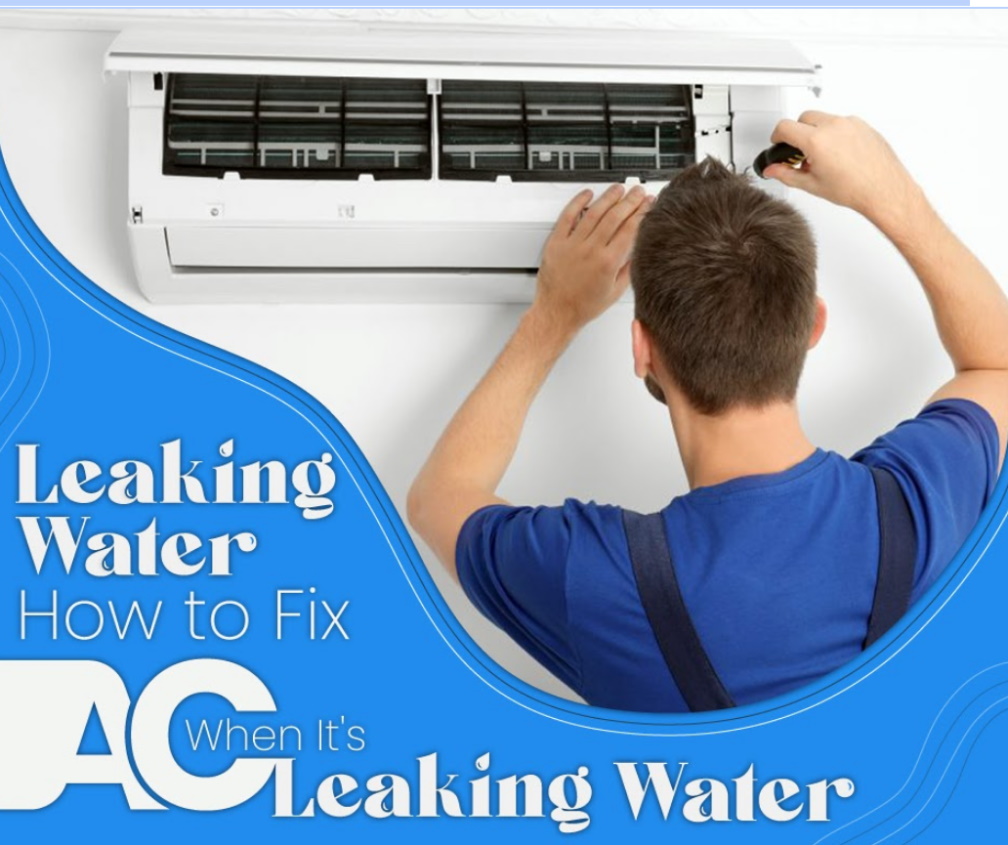 Is your AC leaking water, and you have no clue what to do with it? Well, don't worry! We have got you covered. In this detailed guide, we'll talk about different reasons behind the issue and ways to solve it without crashing your bank account with air conditioner installation cost. 
Air conditioners have become an ultimate part of our lifestyles, and as they keep working flawlessly, we never think of their servicing. This negligence mostly results in common problems, including water leakage, malfunction, etc. 
However, leakage issues can be caused due to various other problems; let's take a look at them!
Common Problems Leading To Leakage In The AC

Improper Installation
If your recently installed air conditioner is leaking, there are greater chances of being installed incorrectly. Most of the time, the drainage pipe and AC both settle improperly, causing a disturbance in water flow to the outlet. 
Additionally, it is important to check that the window's unit is slightly higher than the main unit while installing the AC. This setting will allow the water to flow smoothly to the outlet without causing leakage. 
Blocked Aircon Filter
In most Air Conditioners, a hole at the back is specifically designed to let the water drip out without storing it. But sometimes, debris and dirt can easily clogg that hole, which blocks the constant flow. 
Also, when the water does not find its way out, it starts leaking into the main system. If you think that your AC is installed correctly, you should also consider this issue for your leaking Air Conditioner. 
Dirty Aircon Filter
The other main reason for leakage can be dirty filters as the AC works continuously, the inside air can make the filters dirty with grime. The dirt on the filters makes the AC's evaporator coils drop their temperature to a freezing state while blocking the airflow. 
Moreover, the ice on the coils melts, causing the dripping pan to run out of storage and leakage. The regular cleaning of the AC might solve this issue, but consulting a professional technician would be a great idea. 
Low Refrigerant 
Low refrigerant or AC gas problems do not usually occur in recently installed ACs. As AC is expected to work smoothly for a longer time, you might sometimes detect a shortage of refrigerant. In this case, the evaporator gets frozen while causing leakage in the main unit.
You can easily fix this issue by installing the new refrigerant in a few hours, making your Air conditioner new again. However, if you feel a pile of ice under the filter, consult a professional for in-depth inspection and repair. 
Damaged Condensate Pump 
A condensate pump is a part that holds the dripping water in and lets it drain out through the outlet. Most of the time, when the Air Conditioner gets old, the condensate pump becomes damaged or rusted and cannot collect enough water, causing leakage in the main unit. 
How to Fix a Leaking Air Conditioner
So, these were some common problems that you can consider before kicking out of your recently installed AC just because of leakage issues. These problems have some common solutions that any AC repairing service can solve. Or you can also get them done by offering Air Conditioner installation costs to the professionals. 
Re-installation
If you find that your AC is not installed properly or shows signs of incorrect installation, you should re-install it as soon as possible. Sometimes it can also happen due to uneven wall surfaces. However, to resolve this issue, you can use an AC pad before installing. Do consider calling a technician for re-installing and inspection to avoid further hassle. 
Cleaning and dusting of condensate drain
The condensate drain works continuously and might need proper cleaning every month. As mentioned above, the pipe holds the drawing water, which can damage it by rusting. You can simply clean and dust the drain to make sure it lives longer than expected to avoid this problem. 
Cleaning of interior and exterior coils
Additionally, the continuous working of AC can make the interior and exterior coils dirty, causing one of the problems mentioned above. You can simply clean and dust those coils to prevent unnecessary problems by opening up the body of your Air conditioner every month. Else, you can call any AC mechanic to resolve this issue. 
Evaporator
Sadly, the evaporator cannot be repaired by a normal technician, and you might have to get an appointment from an experienced and professional person. Most of the time, some technicians cut their corners just by filling a new refrigerant, which can temporarily make your AC start working again and get your money wasted. Therefore, do some thorough research before trusting any technician. 
Cleaning Air Vents
You can clean AC air vents even at home with some simple steps. You can easily pull the vents off with the help of screwdrivers then vacuum the ducts with a vacuum hose. At this stage, clean as much dirt as you can clean. However, you can skip vacuuming deep inside the duct, which might be useless. 
After dusting off, wash them with some soapy water and let them dry before putting them back. However, if you cannot do this at home, consider getting help from a technician. 
Bottom Line
While wrapping up, Air conditioners have become the basic need of every household in scorching summers. But, keeping them working smoothly might take some effort. We've mentioned some common problems and solutions behind the leaking air conditioners.
We hope that this informative guide will be a helping hand and let you inspect the root problem behind the leakage. Moreover, we would love to know if you have anything in mind regarding Air conditioners and other related problems.